We welcome you to our insight series – Riskcovry InsurTech Pulse, where we aim to deliver views and updates that encourage conversations among our colleagues and enthusiasts in the #InsurTech space.
This blog is an extension to this series where we elaborate on a topical insight and what more topical than the ongoing pandemic which has stuck to all of us since the beginning of this year?
It is common knowledge that the impact of COVID-19 on India, along with the rest of the world, is among the worst hit. With greater cognizance of especially health insurance, this also presents the insurance sector with an opportunity, paving the way for higher insurance penetration across the country.
In order to assess the impact of COVID on the non-life insurance industry, we analyzed IRDAI data from March 2020 to June 2020 with the corresponding period in the previous year. Here are our 5 key takeaways on the non-life side of the insurance industry: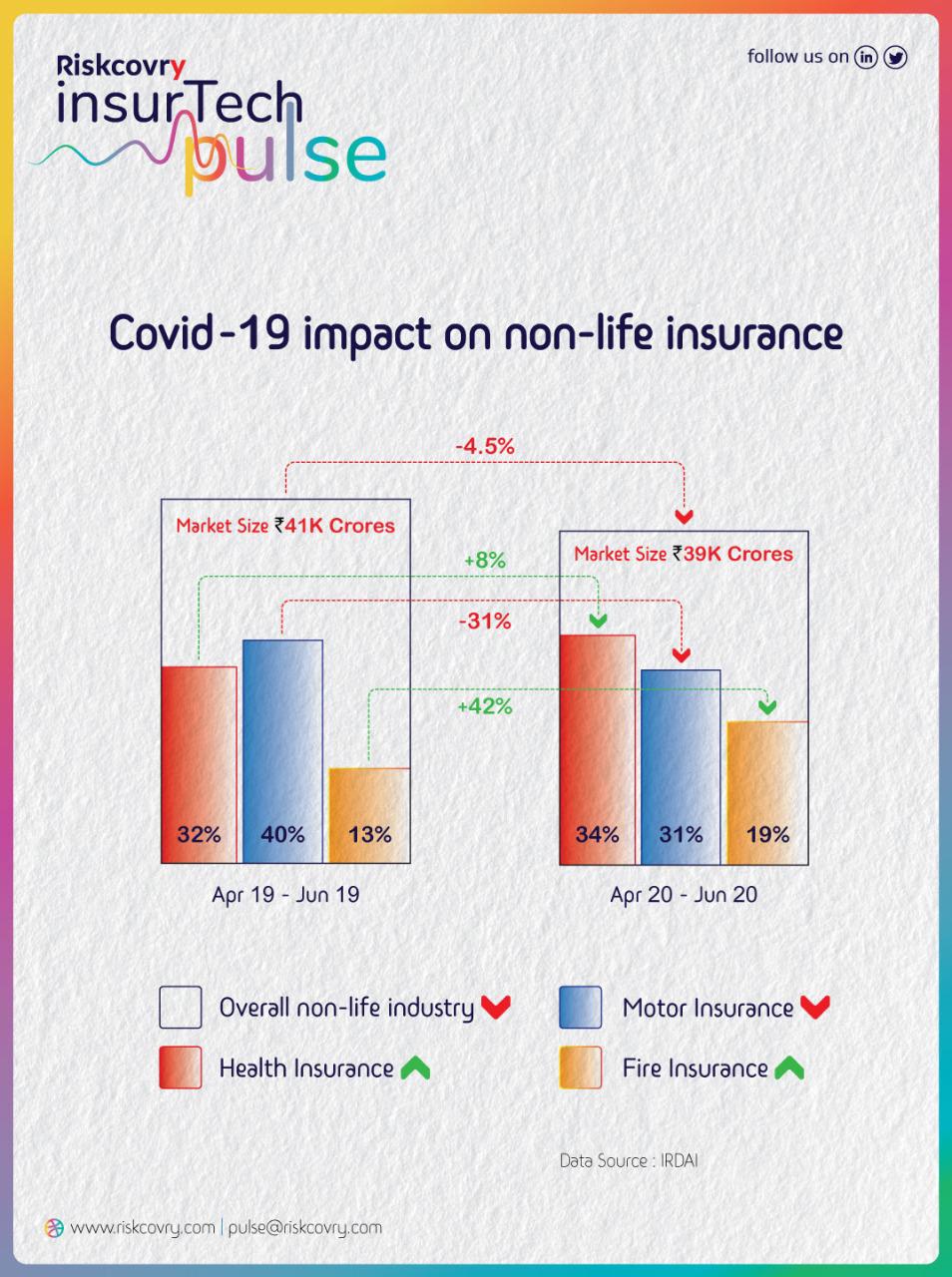 Ever since the national lockdown was announced in late March 2020, non-life industry has contracted by ~4.5% in Q1 FY21, relative to the same quarter last year (Q1 FY20). Given insurance is a counter cyclical industry however, the industry has already started to witness growth starting June 2020.
For the first time in the history of Indian insurance industry, Health insurance has overtaken Motor insurance to emerge as the largest product line on the non-life side. This is significant given that motor insurance is compulsory while health insurance is typically an opt-in product. The change is primarily driven by 2 factors:

Increasing consumer awareness of health insurance needs to protect personal well-being as well as family livelihood.
Drop in motor insurance due to lack of new vehicle sales coupled with that a similar drop in insurance renewals.

Surge in Fire Insurance premium over last year has been 42% owing to the revision of Flexa rates for property insurance by General Insurance (GI) council.
The pandemic has posed few challenges to insurers with respect to the existing policy wording interpretation across Property, Transit and Liability insurance products on account of force majeure clauses. For example, factories locked down for more than 30 days consecutively, stalled cargo for longer periods leading to cargo damage, employees suing management for loss of income etc.
The insurance industry regulator in India, IRDAI has facilitated to create short-term COVID Insurance covers with standardised terms with all general and health carriers. Now they are set to offer products that offer protection for Covid-19 related expenses. Corona Kavach and Corona Rakshak aim at enabling deserving parts of our communities with additional protection from expenses incurred due to Covid-19 infection, who are not already covered by any or adequate insurance protection.
Our analysis from this insight:
We think this is the tip of the spear for the insurance industry in India in terms of a tailwind for the health side. Many sweeping changes across consumer awareness/consumption, product, distribution, technology, regulation/compliance, data privacy/security, capital, and other market forces, lie ahead of us. Organisations across the industry value chain are looking at an accelerated journey to adopt digital solutions to connect to their end users, for whom too social distancing is becoming an inevitable way of life for the foreseeable future.
With Riskcovry InsurTech Pulse, we believe that together, we can convey, enthuse and promote views around innovation with the potential to impact the collective ecosystem. We shall be back with more such interesting insights every month. Watch this space!
Have a burning topic or question that you'd like us to cover as part of this series? Please write to us at hello@riskcovry.com